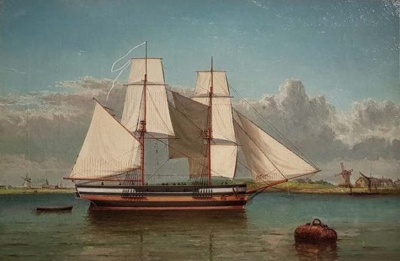 Name/TitleLADY NELSON in Sydney Cove or Yarrow River
About this objectAn armed brig of 60 tons burden, LADY NELSON was built on the Thames for the Sydney government. Under the command of Lieutenant Grant, RN, the ship left England on 18 March 1800, arriving and anchoring in Sydney Cove on 16 December 1800. On 15 February 1802, LADY NELSON discovered Port Phillip, entered the heads and anchored in Yarrow River.
MakerUnknown
Date Madec1800
Period19th century
Medium and MaterialsOil on canvas
Place MadeAustralia
Place NotesDepicts either Sydney Cover or Yarrow River.
Measurements340mm x 520 mm
Object TypeMaritime Paintings
Object numberSF001443
Copyright Licence
Attribution - Non-commercial - No Derivatives (cc)
Curator's corner
---
New acquisitions, staff favourites and curios