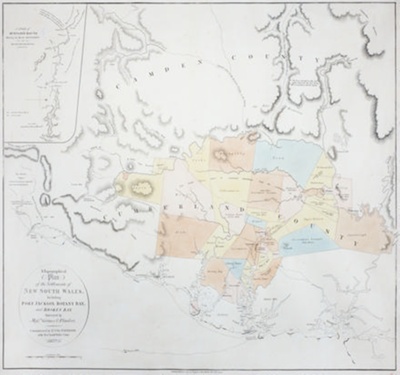 Name/TitleTopographical map of NSW settlements
About this objectThe first separately issued map of New South Wales by the great English cartographer Aaron Arrowsmith. One of the official British cartographers, Arrowsmith's company specialised in the production of large scale general maps and the recording of the latest geographical discoveries, particularly throughout the Pacific area. The 1799 issue of the map had been the first separately issued publication to show the spread of settlement within the fledgling colony. The information was based on a plan prepared for Governor Hunter in 1796 by the Deputy Surveyor General, Charles Grimes. An important feature incorporated on the map was the first accurate charting of the coastline around Port Jackson and the Georges River, undertaken by Flinders after his arrival in the colony in 1795.

Arrowsmith prepared his revised edition "with additions to 1815" in the form of a considerably changed map. The new material included, "A Sketch of Mr Evan's Route West of the Blue Mountains in Nov. Dec. 1813 and Jan. 1814". This was the first time that the newly discovered route, signifying the crossing of the Blue Mountains and the 'breakout' from the settlement, had been brought to public attention. Even Macquarie himself did not travel over the Blue Mountains until May 1815, and it was a long time before Blaxland published any account of the historic journey.
MakerAaron Arrowsmith - Cartographer
Maker RoleCartographer
Date Made1815
Period19th century
Medium and MaterialsInk and paper
Measurements550mm x 700mm
Object TypeMaps and Charts
Object numberSF000044
Copyright Licence
Attribution - Non-commercial - No Derivatives (cc)
Curator's corner
---
New acquisitions, staff favourites and curios