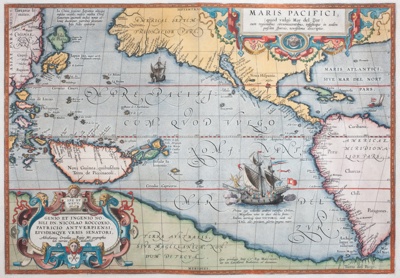 Name/TitleMaris Pacifici
About this objectAbraham Ortelius (1527-1598), "the most influential mapmaker in history" (Cohen) is credited with the creation of the first modern geographical atlas, Theatrum Orbis Terrarum (1570). "It was engraved at a time of increasing activity in the Pacific with the English having recently begun raiding the Spanish galleons carrying the gold of Peru up the coast to the Isthmus, as well as those making the arduous journey across from the Philippines to Mexico" (Burden).

This map is based on Mercator's world map (1569), Frans Hogenberg's map of the Americas (1589), and details from the Portuguese manuscript maps of Bartolomeo de Lasso. The map presents the west coast of North America more accurately than prior printed maps. California is shown in peninsular conformation rather than as an island but in the East, the islands of New Guinea and Japan are first depicted as closer to Asia than America.
MakerAbraham Ortelius - Cartographer
Maker RoleCartographer
Date Made1595
Period16th century
Place MadeAntwerp
Medium and MaterialsPaper, ink. Hand coloured copper engraving.
Measurements345mm x 497mm
Object TypeMaps and Charts
Object numberSF000822
Copyright Licence
Attribution - Non-commercial - No Derivatives (cc)
Curator's corner
---
New acquisitions, staff favourites and curios