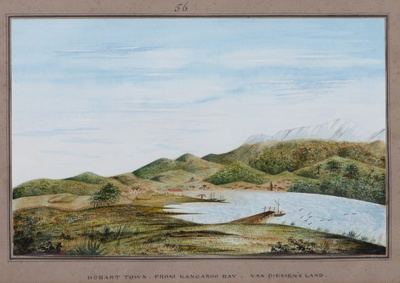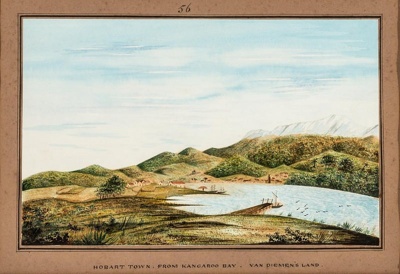 Name/TitleHobart Town from Kangaroo Bay Van Diemen's Land
About this objectAbel Tasman's ships HEEMSKIRK and ZEEHAEN were the first Europeans to sight Tasmania in November 1642 and named it Van Diemen's Land, in honour of the Dutch governor of the Dutch East Indies, Anthony van Diemen. The next visit to the River Derwent was by Frenchman Marion du Fresne in 1773. In 1777 James Cook described the shores of Derwent as a suitable location for resupplying and watering ships. In 1798 George Bass and Matthew Flinders circumnavigated Tasmania aboard NORFOLK, being the first Europeans to prove that Tasmania was an island.

Nicholas Baudin's presence there in 1802 caused alarm at the prospect of the French establishing a rival colony and the Governor of New South Wales, Philip Gidley King, dispatched an expedition under the command of the 23-year-old Lieutenant John Bowen to establish a colony. He arrived in September 1803, thereby creating the first presence in Van Diemen's Land for the British.

At the same time, David Collins had been dispatched from London in command of HMS CALCUTTA, with orders to establish a colony at Port Phillip. Collins arrived at Port Phillip in October 1803. Due to dissatisfaction with the location, he relocated the settlement to Derwent River, arriving on 16 February 1804 and immediately taking command from Bowen. The settlement at Risdon Cove was relocated 5 miles down the river to a better site at Sullivan's Cove in 21 February 1804. This created what was to become Hobart, making it the second oldest established colony in Australia.

Thomas Gardiner was captain of the Hobart whaling ship MARIANNE. Gardiner's known work is all in the form of copies of the work of other artists. This scene is based upon a lithograph that appeared in the Illustrated London News in January 1847, a view of Hobart by John Skinner Prout. Gardiner's dates of birth and death are unknown, but he was whaling in New Zealand and Australian waters as early as 1808 and copying from the Illustrated London News as late as 1856.

MakerThomas Gardiner - Artist
Maker RoleArtist
Date Madec1840
Period19th century
Medium and MaterialsPaper and watercolour
Place MadeTasmania, Australia
Measurements175mm x 280mm
Object TypeLandscape Paintings
Object numberSF001446
Copyright Licence
Attribution - Non-commercial - No Derivatives (cc)
Curator's corner
---
New acquisitions, staff favourites and curios