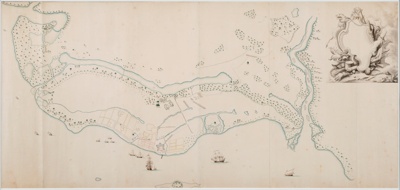 Name/TitleVOC Chart of the island of Makassar
About this objectVOC chart of the island of Makassar – Sulawesi in today's Indonesia. Makassar is the island from which the Makassan bech-de-mer fishermen visited Australia for at least 100 years before the arrival of the Europeans.

The Dutch fought many battles in an effort to subdue the Macassans and the VOC built the largest fort, "Fort Rotterdam" on the island, which is still extant today. This chart was prepared by the VOC but it would appear was never published as it remains unfinished including the empty cartouche in the top right corner.
MakerVOC - Publisher
Maker RoleCartographer
Period18th century
Place MadeMakassar (Indonesia)
Medium and MaterialsPaper, ink.
Object TypeMaps and Charts
Object numberSF001458
Copyright Licence
Attribution - Non-commercial - No Derivatives (cc)
Curator's corner
---
New acquisitions, staff favourites and curios