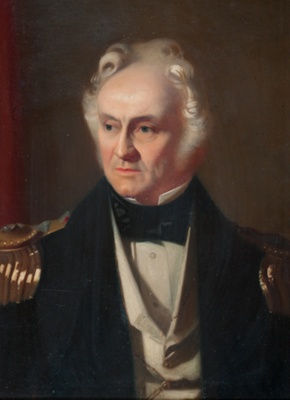 Name/TitlePortrait of Arctic explorer William Edward Parry
About this objectPortrait of the English rear-admiral and Arctic explorer Sir William Edward Parry (1790-1855). Parry commanded several expeditions in search of the Northwest Passage, making many important discoveries in the Arctic region. His last expedition took him to New South Wales as commissioner of the Australian Agricultural Company with the object of finding better grazing land for fine-wool sheep. Parry remained in Australia for five years, returning to England in 1834.

The portrait and history painter John Lewis Reilly painted this portrait after a work by Stephen Pearce who is known for his Arctic explorer portraits, the most famous of which is "The Arctic Council planning a search for Sir John Franklin". Reilly exhibited at the Royal Academy from 1857 to 1866. In addition to painting portraits from life, he also produced copies of historic portraits including a version of Velasquez's Philip IV in the Frick collection.

Oil painting by John L. Reilly on Winsor & Newton prepared millboard, inscribed on reverse with the names of the sitter, Reilly and Pearce.
MakerJohn Lewis Reilly - Artist
Maker RoleArtist
Date Madec1860
Period19th century
Place MadeLondon, United Kingdom
Medium and MaterialsOil paint, prepared millboard, later gold frame
Measurements380mm x 270mm
Object TypeEuropean Portraits
Object numberSF001001
Copyright Licence
Attribution - Non-commercial - No Derivatives (cc)
Curator's corner
---
New acquisitions, staff favourites and curios