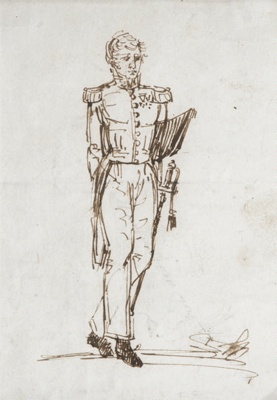 Name/TitlePortrait of Louis Claude de Saulces de Freycinet
About this objectPen-and-ink portrait of Louis Claude de Saulces de Freycinet in uniform as commander of the Uranie.

Freycinet's voyage on board Uranie to the East Indies, Australia and the Pacific was one of the most important voyages of exploration ever made. This official publication of the voyage, which appeared over twenty years under the direct supervision of Freycinet himself, is among the most handsome of all voyage accounts, probably the most beautiful of all the celebrated French grand voyages.
MakerJoseph Alphonse Pellion - Artist
Maker RoleArtist
Period19th century
Place MadeParis, France
Medium and MaterialsPaper and ink.
Object TypeEuropean Portraits
Object numberSF001609
Copyright Licence
Attribution - Non-commercial - No Derivatives (cc)
Curator's corner
---
New acquisitions, staff favourites and curios