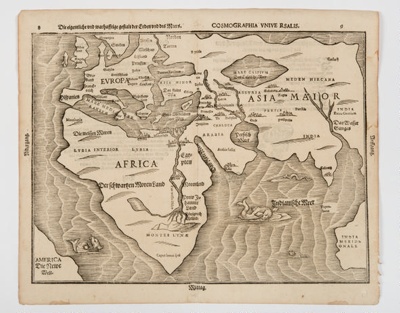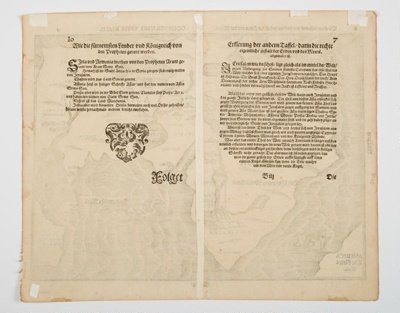 Name/TitleDie eigentliche und warhafftige gestalt der Erden und des Meers. Cosmographia universalis
About this objectRare world map showing what looks like the shape of the west coast of Australia in approximately its correct position. As this map was produced in 1581, some 25 years before the first known European landing in Australia, this map has added further support to the theory that the Portuguese had knowledge of Australia before the Dutch presence and subsequent landing of Willem Janzoon in 1606 on the western coast of Cape York.

Heinrich Bünting was a Protestant pastor and theologian. He is best known for his book of woodcut maps titled Itinerarium Sacrae Scripturae (Travel book through Holy Scripture) first published in 1581, from which this map is taken. Bünting was born in Hannover, Germany, in 1545, studied theology at the University of Wittenberg graduating in 1569, and became a Protestant pastor. In 1591 he was appointed superintendent in Goslar but when a dispute arose over his teachings in 1600 he was dismissed and retired from the ministry. He spent the rest of his life as a private citizen in Hannover.

His book of woodcut maps, Itinerarium Sacrae Scripturae, first published in Magdeburg in 1581, was a very popular book in its day. It was reprinted and translated several times. The book provided the most complete summary of biblical geography available and described the Holy Land by following the travels of various notable people from the Old and New Testaments.

MakerHeinrich Bünting - Cartographer
Maker RoleCartographer
Date Made1581
Period16th century
Place MadeMagdeburg, Germany
Medium and MaterialsInk, paper
TechniqueWoodcut
Measurements270mm x 365mm
Object TypeMaps and Charts
Object numberSF001180
Copyright Licence
Attribution - Non-commercial - No Derivatives (cc)
Curator's corner
---
New acquisitions, staff favourites and curios