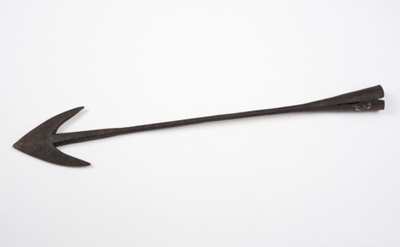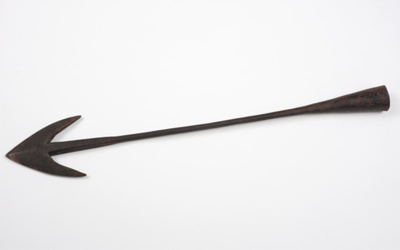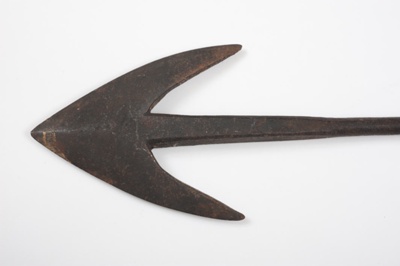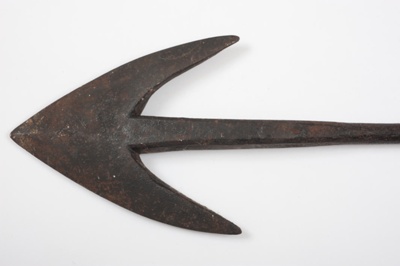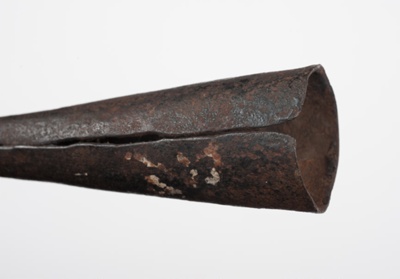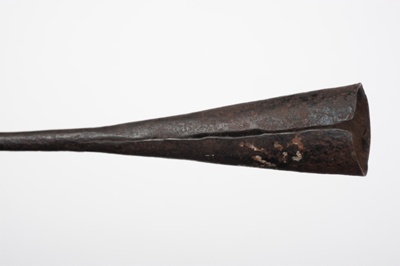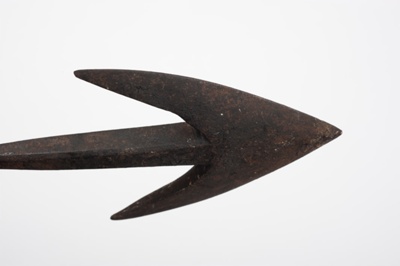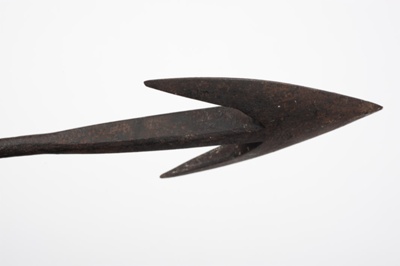 Name/TitleDouble Flue Whaling Harpoon
About this objectThe two flue harpoon or two flue iron (which, together with the one flue harpoon, were known as common harpoons) is a type of harpoon used in whaling for at least 1000 years. In the early 19th century the design was modified, and the one flue harpoon was created. By removing half of the point, the chance of the point cutting its way back out of the whale was greatly reduced.

The two flue design was described by Frederic Marten, writing of a voyage in 1671 as follows:

"It is shaped like an arrow before: it hath two sharp beards, they are sharp at the edge, and have a broad back, like unto a hatchet that is sharp before and blunt behind, or on the back, so that it may not cut with its back, for else it would tear out, and all your labour would be lost".

British two flue harpoons (and other British irons) are seen with stop withers, or reverse barbs, sometimes called beards, at the flue tips. This addition appeared sometime in the mid-eighteenth century.

Double flue whaling harpoons are scarce, as the industry began using toggle irons almost exclusively after the mid 19th century.

MakerUnknown
Date MadeEarly 1800s
Period19th century
Medium and MaterialsIron
Object TypeGeneral Interest
Object numberSF001090
Copyright Licence
Attribution - Non-commercial - No Derivatives (cc)
Curator's corner
---
New acquisitions, staff favourites and curios