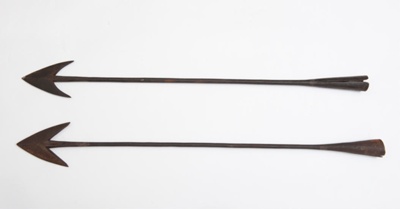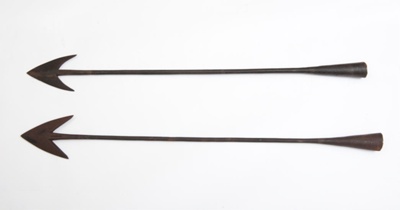 Name/TitleWhale harpoon irons
About this objectThese two flue irons were manufactured by Willian Scorrar, Harpoon Maker, in London and are believed to have been used by Tasmanian based whalers in the 1830s to 1840s.

There is no record of Australian Aboriginal or Torres Strait Islander people traditionally hunting whales although Aborigines were employed as boat crew by some whaling masters. Whaling in Australia, therefore, took place in colonisation in 1788 through to 1979 when Australia terminated whaling and committed to whale protection.

Captain Thomas Melvill commanded the ship BRITANNIA as part of the 3rd Fleet in 1791 and he and Captain Eber Bunker of the ship WILLIAM AND ANN led the first ever whaling expedition in Australian waters. Whale oil and baleen (whalebone) were profitable commodities and whaling was one of Australia's first major export industries with coastal whaling stations helping build the country. Sealing and whaling contributed more to the colonial economy than land produce until the 1830s and the whaling industry enjoyed 70 years of commercial success until petroleum superseded whale oil.

MakerWilliam Scorrar - Maker
Maker RoleMaker
Date Madec1830
Period19th century
Place MadeLondon, United Kingdom
Medium and MaterialsIron
Inscription and Marks Letters JDD stamped onto one side.
Object TypeGeneral Interest
Object numberSF001076
Copyright Licence
Attribution - Non-commercial - No Derivatives (cc)
Curator's corner
---
New acquisitions, staff favourites and curios