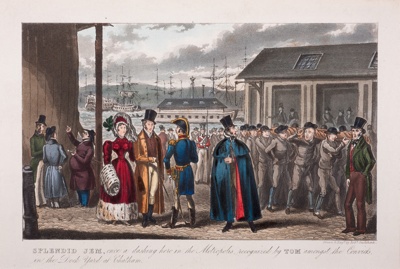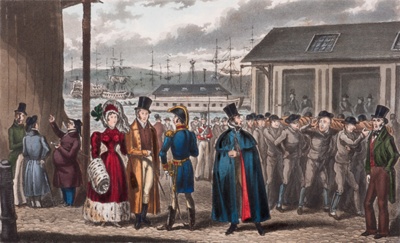 Name/TitleSplendid Jem - Once a dashing hero in the Metropolis
About this objectHumorous transportation cartoon set at the docks at Chatham.

The scene depicts the horrors of social disgrace in inimitable Cruikshank style. Splendid Jim – "once a dashing hero in the Metropolis" – is now a convict in leg irons preparing for departure to one of the hulks lying anchor in the background, and thence to Botany Bay. His pain at this current predicament becomes acute when he is recognised by Tom, who is standing with a group of fashionable onlookers.

Cruikshank, best remembered for the work he did for Charles Dickens, made a number of cartoons dealing with transportation and immigration to the Australian colonies.

MakerRobert Cruikshank - Artist
Maker RoleArtist
Date Made1821
Period19th century
Medium and MaterialsPaper and ink.
Place MadeLondon, United Kingdom
TechniqueHand coloured
Measurements11cm x 18.3cm
Object TypeCartoons
Object numberSF000793
Copyright Licence
Attribution - Non-commercial - No Derivatives (cc)
Curator's corner
---
New acquisitions, staff favourites and curios