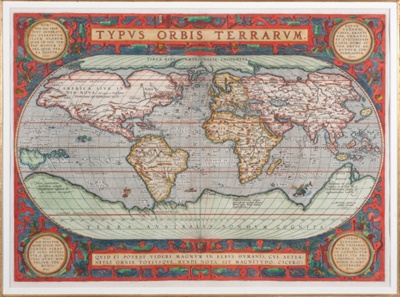 Name/TitleTypus Orbis Terrarum
About this objectAbraham Ortelius was a Flemish cartographer from Antwerp, then part of the Habsburg ruled seventeen provinces. In 1575 he was appointed geographer to the King of Spain, Philip II. Ortelius gained fame from the publication of his Theatrum Orbis Terrarum in the 1570's, recognised as the first modern Atlas. This example is Ortelius's third and last world map, dated 1587 although this example is from the 1592 edition.

Four medallions decorate each corner and feature quotes by the classical Roman statesmen Cicero and Seneca. The Solomon Islands are marked for the first time. The land of Beach is shown and above it lies the land of Java Major, the name given by Marco Polo to the island of Java. Like the influential mapmaker Plancius, Ortelius shows the landmass Terra Sept Emtrionalis Incognita at the north pole separated by narrow straits from the continents of Europe, Asia and North America.

New Guinea is shown as an island, although Ortelius includes a note at lower left below the word Noua Guinea stating, '[New Guinea, recently discovered. Whether this is an island or part of the Southern continent is uncertain]'. In the lower right of the map in the provinces of Beach is written: '[These regions are very extended, as can be seen in the writings of Paulus Venetus and the travels of Ludovicus Vartomannus]'.

MakerAbraham Ortelius - Cartographer
Maker RoleCartographer
Maker RoleEngraver
Date Made1589
Period16th century
Medium and MaterialsPaper and ink
TechniqueEngraving
Measurements358mm x 492mm
Object TypeMaps and Charts
Object numberSF000957
Copyright Licence
Attribution - Non-commercial - No Derivatives (cc)
Curator's corner
---
New acquisitions, staff favourites and curios