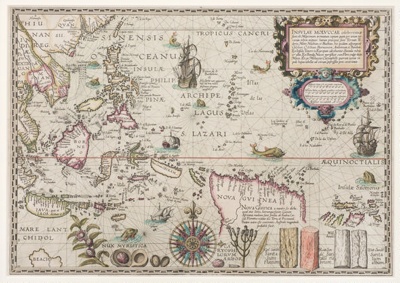 Name/TitleFar East Spice Map
About this objectThe famous, important, and beautiful Spice Map by Petrus Plancius, only known in a handful of examples and issued as a separate chart, not part of any atlas. First issued in 1592, this is the third and final state in original colouring from 1617, signed by Claes Janszoon Visscher who acquired the copperplate after the death of Cornelis Claeszoon.

The title cartouche state "The islands of the Moluccas are very famous because of their extremely great wealth in spices, which they export over the world. The important islands are Ternate, Tidor, Motir, Machian, and Bachian…from the island of Timor, red and white sandalwood is shipped to Europe, from Banda nuts with their flowers commonly named mace, and from the Moluccas, the clove tree. At the foot of this map, we include pictures of these products drawn from Nature". Other legends refer to New Guinea stating that it was considered "probable that it forms part of the southern continent" and a reference to Jorge de Menezes, a Portuguese explorer who is credited with the European discovery of the Ilhas dos Papuas in 1526. In the lower-left is a land called "Beach", a legendary kingdom south of Java, described by Marco Polo who travelled to China in the late 13th century and is often considered to potentially represent Australia.

As noted in the title, running along the lower edge of the map are drawings of the most coveted products of the Moluccas; Nutmeg, Cloves, Yellow, Red and White Sandalwood. These pictures were intended as publicity for the distant voyages to be undertaken by Dutch merchants and were included as an incentive to attract capital to finance these ventures.

Petrus Plancius was a Flemish astronomer, cartographer and clergyman. He was one of the founders of the Dutch East India Company for which he drew over 100 maps. His map is based on Portuguese and Spanish sources, which can clearly be seen from the geographic nomenclature. During an intelligence visit to Lisbon in 1592, Cornelis de Houtman had illegally bought a set of manuscript charts which then formed the basis of future Dutch cartography of the region.
MakerPetrus Plancius - Cartographer
Maker RoleCartographer
MakerCornelius Claeszoon - Publisher
Maker RolePublisher
Date Made1617
Period17th century
Place MadeAmsterdam, Netherlands
Medium and MaterialsPaper and ink
TechniqueEngraving
Measurements390mm x 550mm
Object TypeMaps and Charts
Object numberSF001460
Copyright Licence
Attribution - Non-commercial - No Derivatives (cc)
Curator's corner
---
New acquisitions, staff favourites and curios