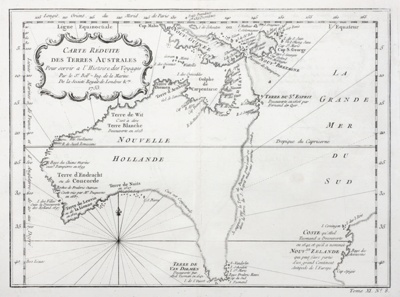 Name/TitleCarte Réduite des Terres Australes
About this objectEarly French map of Australia and the west coast of New Zealand prior to the discoveries of Cook on the East Coast.

The image shows the coasts of Australia or New Holland as it was called at the time, detailing mainly the discoveries of the Dutch including Abel Tasman. Van Diemen's Land (Tasmania), discovered by Tasman in 1642, is conjectured to be joined to the mainland in an unbroken coastline stretching all the way up to New Guinea and Quiros' discovery of Espiritu Santo (Vanuatu) is erroneously shown as part of the Queensland coastline.

Jacques Nicolas Bellin the elder (1703-1772) was first chief hydrographic engineer of the "Dépôt des cartes, plans et journaux du Ministère de la Marine," charged by Louis XIV with mapping the coasts of France first and then the rest of the world. He was also a member of the Royal Society of London. As Hydrographer to the King, he undertook his commission to map all known coasts of the world.
MakerJacques Nicolas Bellin - Cartographer
Maker RoleCartographer
Date Madec1753
Period18th century
Place MadeParis, France
Medium and MaterialsPaper, ink.
TechniqueEngraving
Object TypeMaps and Charts
Object numberSF000815
Copyright Licence
Attribution - Non-commercial - No Derivatives (cc)
Curator's corner
---
New acquisitions, staff favourites and curios