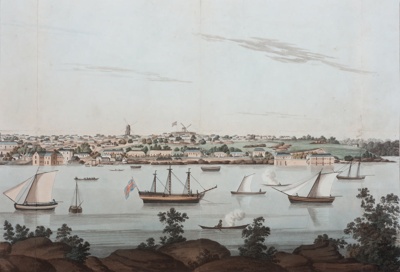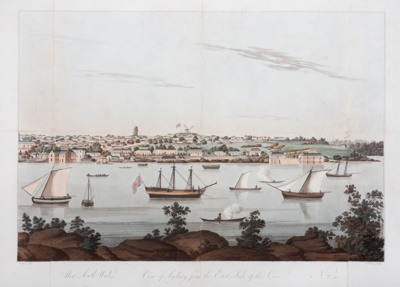 Name/TitleView of Sydney from the East Side of the Cove, number 2
About this objectA full set of John Eyre's four coloured views of Sydney, which together form the first panorama of Sydney Cove to have been published. The four prints are "View of Sydney from the East Side of the Cove", numbers 1 and 2 and 'View of Sydney from the West Side of the Cove", numbers and 2. Issued with Mann's colour plate book, "The Present Picture of New South Wales" in 1811.

John Eyre arrived in New South Wales as a convict in 1801, and the first of his drawings which can be dated was done in 1804, soon after his conditional pardon. His best known work is this panorama: his Sydney is an orderly town where the Aborigine roams with dignity. His focus is on the harbour, unsurprisingly as the maritime activity there was the dominating element in Sydney at the time.

Mann was transported to Australia in 1799 for forgery; pardoned by 1802, returned to England in 1809 on the same ship as Colonel Johnston. He had with him then the four oil paintings by Eyre which now hang in the State Library of New South Wales. Mann arranged for their exhibition in London in 1810, and for Clark to produce the engravings of them which appear here.

MakerJohn Eyre - Artist
Maker RoleArtist
MakerJohn Heaviside Clark - Engraver
Maker RoleEngraver
Date Made1810-1811
Period19th century
Medium and MaterialsPaper, ink
Place MadeEdinburgh, United Kingdom
TechniqueAquatint
Measurements397mm x 543mm
Object TypePrinted Material
Object numberSF000725
Copyright Licence
Attribution - Non-commercial - No Derivatives (cc)
Curator's corner
---
New acquisitions, staff favourites and curios