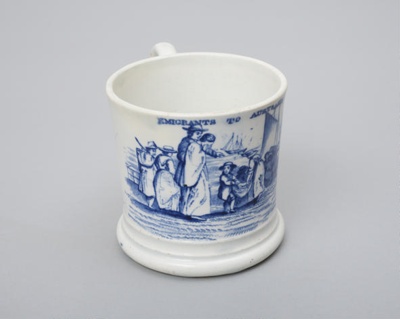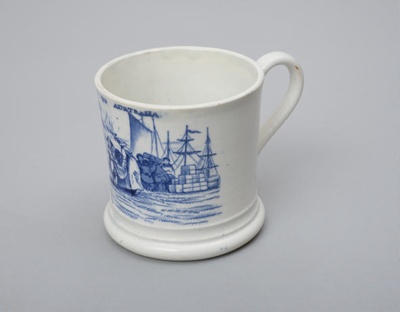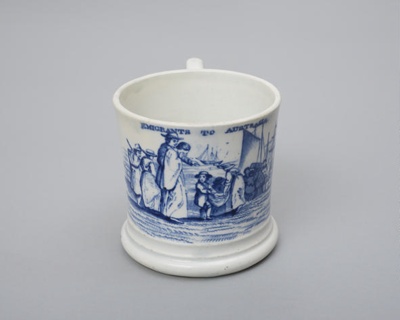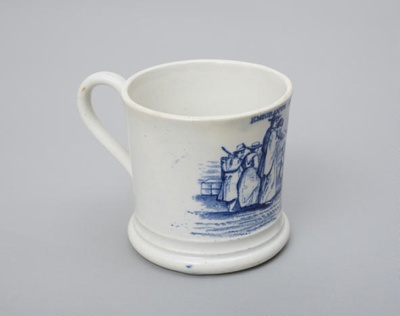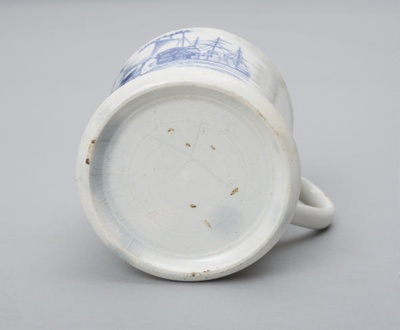 Name/Title'Emigrants to Australia', Pearlware child's mug
About this objectThe mug is decorated with an underglaze and a blue transfer print. On the body, it is titled 'Emigrants to Australia'. This type of body and glaze was discontinued by 1840. Comparison of the handle shape and the profile of the foot, point to the attribution of manufacture by the Davenport Factory.

The importance of this mug in a historical context is that is only the third transfer printed item relating to Australia since 1788. The iconography is of great importance and quite rare. The figures, clothing, ships and cargo show a busy port, which given the other dating details, allow us to presume the subject to be Sydney Cove.

MakerDavenport Factory
Maker RoleManufacturer
Date Madec1830
Period19th century
Medium and MaterialsPearlware
TechniqueCeramic
Object TypeCeramics and Pottery
Copyright Licence
Attribution - Non-commercial - No Derivatives (cc)
Curator's corner
---
New acquisitions, staff favourites and curios