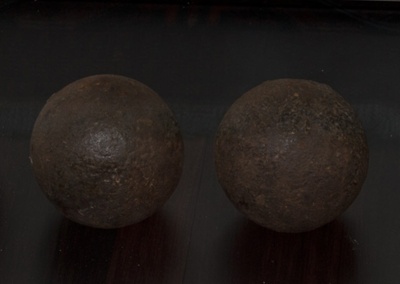 Name/TitleCannonballs from the wreck of HMS PORPOISE
About this objectHMS PORPOISE was a 93ft long, 12-gun sloop of 308 tons, originally built in Spain as the packet ship INFANTA AMELIA but after capture by the British in 1799 was renamed.

On 10 August 1803, PORPOISE left Sydney under the command of Lieutenant Robert Fowler in the company of CATO and the East Indiaman BRIDGEWATER, bound for India. Matthew Flinders was returning to England as a passenger on PORPOISE after his surveying voyages in Australia.

On the evening of the 17th August breakers were seen ahead but too late to take avoiding action and both CATO and PORPOISE struck the reef. BRIDGEWATER inexplicably sailed on and later reported both ships lost with no survivors, although ironically was lost with all hands at a later date. The crew and passengers of CATO and PORPOISE were able to land on a sandbank as both ships broke up and on 26 August 1803, with no sign of rescue, Flinders and Park took the largest cutter, which they named HOPE and together with twelve crewmen, they headed to Sydney to seek rescue.

Through marvellous navigation, HOPE made the 800 mile voyage to Port Jackson by 8 September. Three lives had been lost in the joint shipwreck but Flinders was able to return with the ship ROLLA and the schooners CUMBERLAND and FRANCIS and rescue all the remaining passengers.
Date Madec1803
Period19th century
Medium and MaterialsMetal
Object TypeMaritime Archaeology
Object numberSF001027
Copyright Licence
Attribution - Non-commercial - No Derivatives (cc)
Curator's corner
---
New acquisitions, staff favourites and curios