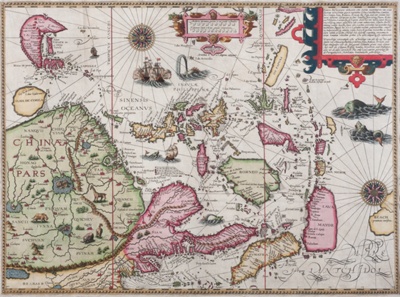 Name/TitleFar East Map
About this objectThe first accurate map of the Far East and China by Jan Huyghen van Linschoten's Itinerario.

The cartographical work of Bartolomeu Lasso served as a model for these charts with the Far East and the Malay Archipelago being shown in such detail as was known only to the Portuguese at the time and had never before been shown on a printed map. Only a portion of the south-land (Australia) can be seen: "Beach" the auriferous province, albeit at this stage undiscovered by Europeans.

This example in the original colour comes from the rare first 1596 (Dutch edition) of the Itinerario, the book that was directly responsible for the Dutch voyages to the East and their success, and that was indirectly responsible for the downfall of the Portuguese Empire in the East.

The colouring is contemporary and applied at or very shortly after the time of production. Original colour is very rare for this map because the publishers of travel books like this did not sell coloured copies of the book or have in-house colouring departments like atlas publishers. Buyers would have to take the books to a freelance colourist to get the professional colouring done.

MakerJan Huyghen van Linschoten - Cartographer
Maker RoleCartographer
Date Made1596
Period16th century
Place MadeAmsterdam, Netherlands
Measurements390mm x 525mm
Object TypeMaps and Charts
Copyright Licence
Attribution - Non-commercial - No Derivatives (cc)
Curator's corner
---
New acquisitions, staff favourites and curios