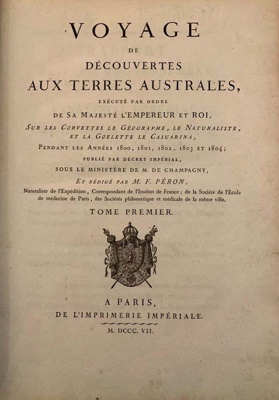 Name/TitleVoyage de Découvertes aux Terres Australes
About this objectThe account of Baudin's voyage to Australia and the Pacific in 1802. First edition.

The official account of the Baudin-Freycinet expedition, one of the most important early explorations of Australia, sent out by the French government in 1800 with orders to survey the Australian coast. Commanded by Nicolas Baudin, the expedition left France in 1800 and sailed via Mauritius to the Australian coast in the region of Cape Leeuwin, arriving in May 1801. Péron sailed as a naturalist on the expedition and Freycinet as a cartographer.

The vessels GEOGRAPHE and NATURALISTE visited Tasmania and went on to Sydney. They then undertook a complete survey of the southern coast and an examination of the northern coast before returning to Mauritius where, near the end of 1803, Baudin died. The narrative of the expedition was begun by Péron and completed by Freycinet after Péron's death. The French and English had completed their circumnavigations of the Australian continent at approximately the same time, but Flinders' imprisonment by the French on Mauritius meant that it was this French account which contained the first complete and detailed chart of the Australian continent to appear in print.

The series of portraits of Aborigines represents the most accurate depictions of Australian aborigines to be found in any of the early voyage accounts. The Silentworld Foundation holds a number of the original sketches from which these plates were drawn.
MakerM. F. Péron - Author
Maker RoleAuthor
Date Made1807-1816
Period19th century
Place MadeParis, France
Place NotesPublished
Medium and MaterialsPaper and ink
Object TypeBooks
Object numberSF001498
Copyright Licence
Attribution - Non-commercial - No Derivatives (cc)
Curator's corner
---
New acquisitions, staff favourites and curios