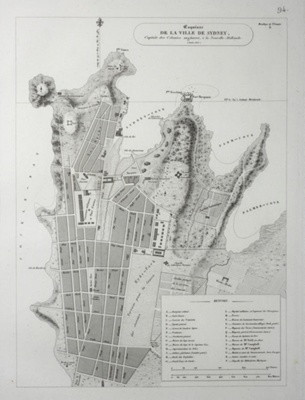 Name/TitleEsquisse de la Ville de Sydney, Capitale des colonies anglaises, à la Nouvelle-Hollande
About this objectDetailed map of the budding settlement at Sydney Cove, from the official published account of the Uranie voyage of 1817-1820 to Australia and the Pacific, commanded by Louis de Freycinet.

The French took considerable interest in the penal colony at Port Jackson and Freycinet was astounded by the growth of the settlement and the quality of the architecture he encountered, having previously visited Sydney Cove as an officer on the Baudin voyage of 1800-1804. The detail of this map reflects the curiosity of the French visitors who enjoyed warm hospitality now that Britain and France were at peace and could inspect the settlement unhindered.

The map is based on an earlier map dated 1802 and details a number of landmarks that remain familiar to this day, including Hyde Park., Woolloomooloo and the Botanical Gardens. Indeed the street plan as engraved here remains largely unchanged as the central business district of Sydney today.
MakerLouis Henri de Saulces de Freycinet - Cartographer
Maker RoleCartographer
MakerChez Pillet Aine - Publisher
Maker RolePublisher
Date Made1825
Period19th century
Place MadeParis, France
Medium and MaterialsPaper and ink
Measurements320mm x 237mm
Object TypeMaps and Charts
Object numberSF000055
Copyright Licence
Attribution - Non-commercial - No Derivatives (cc)
Curator's corner
---
New acquisitions, staff favourites and curios